War Links
rue du Fort, 62190 Vesques
Batterie TODT (Museum of the Atlantic Wall), Audinghen. 62179.
The Wellington Quarry, rue Delétoile 62000 Arras.

Base V3 de Mimoyecques, Landrethun-le-Nord, Marquise, 62250
In Flanders Fields Museum (Ypres Museum), Lakenhallen Grote Markt 34. B-8900. Ieper
Historial de la Grande Guerre, Château de Péronne BP 63 - 80201. Peronne.
WW1 battlefields
The Thiepval Memorial, the Memorial to the Missing of the Somme
Vimy Ridge Museum. Underground tunnels and Canadian memorial.
Newfoundland Park. Memorial to the men of Newfoundland who fought here during the battle of the Somme.
General guide to the World War one battlefield.
BBC guide to the front.
Museum of Azincourt. Museum to commemorate the battle of Azincourt, 1415.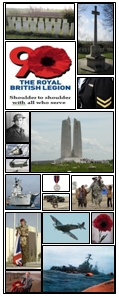 Other sites
If you find other websites which you think might be of interest please let us know.
The whole region is covered with War Graves from all the combatants of both World Wars.
There are a wide range of companies offering tours of the battlefield. A search on google will reveal them all.