Nord/Pas de Calais Branch
Because of our position among the battlefields of both World Wars we have two objectives of equal importance.
To honour those who gave their lives that we might know peace. This we do by representing the Royal British Legion at the many Ceremonies of Rembrance held throughout the region. It is our hope that as we honour our war dead people will be reminded of the futility and obscenity of war andhope that future generations will know true peace
We exist to raise funds in order that the Royal British Legion may continue to look after those who have been injured and the families of those who were killed in conflict past and on going.
Within and close to the Pas de Calais region their are many battlefields monuments and museums.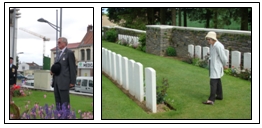 The Pas de Calais Branch has an AGM each year. Officers and a committee is elected at this meeting
Services offered by Members
Many of our members run small businesses. For example, Gite hire or bed and breakfast. Don't miss this beautiful region.
The Pas de Calais is just one of many branches within France. To visit the websites of other branches click below